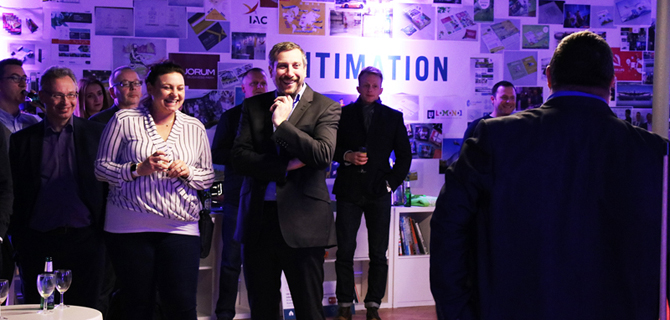 Intimation's north-east team made the move from Gateshead to Newcastle, celebrating the new studio with a launch party, hosted by Simon Donald of the iconic Viz comic; north-east design and creativity meets, well, north-east design and creativity.
Thanks to all our clients, suppliers and friends who made our Newcastle studio launch a great success. Viz Comic's Simon Donald opened the night, with some very entertaining tales from the magazine's inception to the great success it remains today.
North-east comedian and actor, Steffen Peddie acted as MC and provided the laughs, with MD Steve Sadler and Newcastle Director, Andy Smith offering a brief insight into the workings behind the team at Intimation Creative and Rubber Lips PR.
Caricaturist, Barrie James, captured the spirit of the evening with hysterical drawings of the team (and guests), which now adorn the studio walls!
Food, drink and merriment around the pool table followed and an appearance by our small hairy friend from the Dunbar studio, scottie dog: Crombie McCreadie, who proved to be a class-act himself, hovering the food of any food remnants!