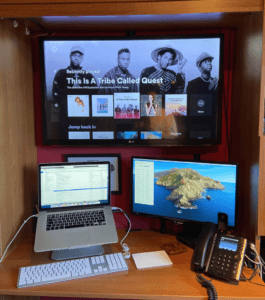 Ok, so we are 'working from home'.
Perhaps we should revisit this topic in two weeks' time when the obvious novelty and first flush of excitement will have worn off and the reality that the much wished for nirvana of home-working is, in reality, a monotonous blur of work/life imbalance, leaving us craving our familiar, office environment.
For us, as a company, the decision was simple; the current situation with the 'C' word, left our team exposed to more than 70 combined public transport trips per week, merely to reach the office, not taking into consideration trips out for supplies, lunches and meetings; not factors in these uncertain times, we wished to add to the growing list of concerns.
Simplified for our particular line of work, where our daily jobs can be undertaken from virtually any location; virtual being the operative word; most of our tasks being undertaken digitally. Our business is currently operating as normal with clients unaware of any change apart from an email advising that we are taking measures now, in advance of any looming announcement; calls are via the same landline numbers, jobs are completed, our team liaises with each other with tech ease, phone extensions remain the same and our homes all have at least one room, which vaguely resembles our respective work desks in Newcastle and Dunbar; believe me, we know – we have already excitedly shared our workspaces on a dedicated 'working from home' channel on our office chat software!
We are sparing quite a few thoughts however for our clients and those businesses which are not as fluid or movable and require teams to be in place until they succumb to feeling unwell and are forced into self-isolation; leaving   in some cases, a dangerous case of under-planning; a diagnosis which is not productive for any business, nor indeed our wider economy; already in a state of mild panic and indecision. Think headless chicken.
It is in times such as these that our PR team spring into action on a damage limitation front; this weekend, for example is being spent fine-tuning quotes, announcements and copy ensuring questions are pre-empted and our clients' businesses are covered, in terms of the daily changing legal updates from our Government, taking care to avoid panic as is easy when in minute by minute contact with every social and news channel imaginable (one of the downsides), and offering factual, informative advice with the aim of keeping business afloat.
Take comfort though from one not insignificant aspect: it isn't all rosy at home guys! There is a danger, especially for the more social creatures amongst us; a dangerous threat of social isolation hangs over our heads as we approach quite possibly a lengthy duration away from our daily routines. Even for the more reclusive, missing daily interaction and the human element is a common side-effect and one, which in most cases can be countered with social events; not so in the current climate. We have this covered too…..welcome to #WineWednesday. Put in place, in a last minute emotional realisation of what the coming weeks may present and prior to us vacating our familiar workspace, we are virtually meeting (of course we are), each Wednesday at 4 over a beer (replace with wine where required) to chat, confer, laugh cry and generally despair at our situation, which let's face it, could be a hell of a lot worse. Watch this space for additional notes on the results of aforementioned #WineWednesday – filters may be required!
On a serious note, our sympathies to businesses who are suffering during this time….feel free to reach out, chat and vent….our accustomed ears are happy to listen and if you want to join us at 4 on a Wednesday – give us a shout – we will hook you up…all you need is WiFi and a glass!
Oh and lastly, we are currently still undertaking one-on-one client meets, so if your preference is face to face rather than Skype or Facetime, then we shall take the necessary precautions and come visit, in self-isolation or not!