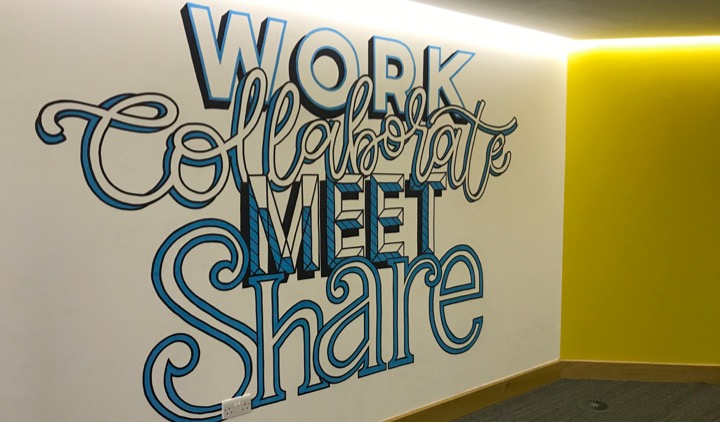 Here at Intimation we are all about creativity, it flows right through our core. And right at the heart of our core, are our designers, the 'creative' guys (although we are all creative). Our designers are the ones who make our clients' dreams, a reality. They take briefs, words, and make them come alive on paper, or the screen, or even in this case, the wall!
As such was the case when our youngest designer, Mattie, brought this brief to life and literally graffitti'd it on the walls of Quorum Business Park!
Quorum Business Park is a client we have a long history with, from creating their 'Hub' branding, to designing their marketing materials and producing promotional videos which broadcast their message to the world! To add another notch on our 'metaphorical' belt, Quorum came to us and asked us to put their working values on the walls of their corridors… and who are we to disappoint! So off Mattie went, pen and pencil in hand (and lots of other stuff too) and free hand, designed and delivered their brief right on the wall for everyone to see!

Do you like Mattie's work? Is there a brief we can bring to life for you?
Contact us and let us know what we can do for you;
Edinburgh: 44 (0) 1368 864786
Newcastle: +44 (0) 191 230 0973