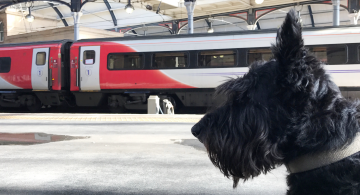 The Intimation and Rubber Lips PR teams are really sad to report that we lost our "Chief Barketing Officer", Crombie, in late May, following a typically hard fought battle with cancer.
Crombie was a very familiar furry face for all our team and many clients, who came to know and love him for his undeniable friendly character and unavoidable presence, usually under feet, seats or desks!
Crombie loved being part of the team; always at the centre of everything, enjoying his train commutes to Newcastle as much as days rolling on the carpet in the Dunbar studio… he ALWAYS found a sunny spot or comfy bed to "work" from!
During his time with Intimation he oversaw many business moves, studio events, team changes and he was very much part of the team,welcoming each new member with equal enthusiasm and having no qualms about mooching for food – even on their first day!
He'll be much missed, but NEVER forgotten and thanks to Mattie's artistic skills, he now sits proudly on our company van, still travelling between the studios. Thanks also to Andy and Mattie, he continues to welcome guests to our Newcastle studio after his unforgettable image was added to our graffiti wall. So, when you visit, please give him a scratch behind his ear and say hello to our beloved team member.