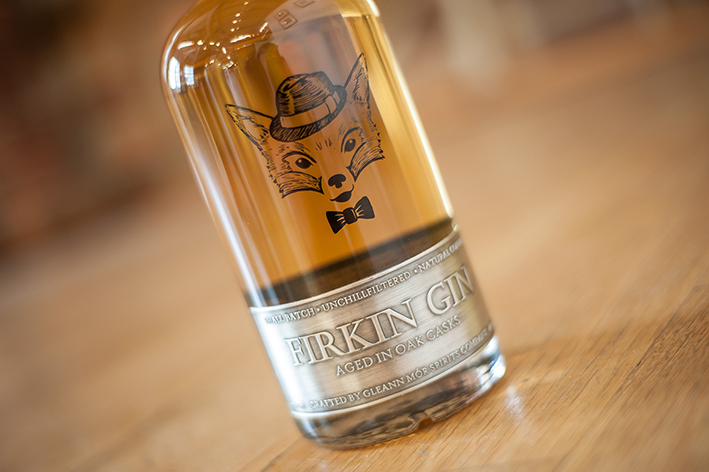 Rubber Lips PR has been working with Gleann Mór Spirits Co Ltd. since the company's launch several years ago. Gleann Mór is an independent firm specialising in bottling extremely rare single malt whiskies. Director of the company, Derek Mair has worked closely with Rubber Lips Director of PR Lisa Henderson, in order to promote Gleann Mór and it's bespoke products. The bottler of fine Scotch Malts has since exploded into the worldwide whisky scene.
Gleann Mór's most recent creation, FIRKIN Gin, is an innovative and edgy take on a classic London dry gin. What makes the gin stand out in taste and colour is the ageing process, which occurs in ex-whisky barrels for several months. A relatively new product on the market, FIRKIN Gin has swiftly found its way into specialist shops and high-end bars and restaurants throughout the UK, as well as retail giants Harvey Nichols and the UK's leading Scottish country clothing specialists, House of Bruar.
FIRKIN Gin was officially launched in April 2015, at an event which was hosted and planned by the Rubber Lips PR team. Since then Derek and Rubber Lips have worked tirelessly to promote FIRKIN Gin and cement its place on the shelves of gin drinkers worldwide.
As a result of Rubber Lips PR campaign, FIRKIN Gin was named as one of The Scotsman's 'Top 15 Gins to Try' and was featured in a Live Tasting broadcast via the Scotsman's Food and Drink's YouTube channel. Furthermore, Rubber Lips has arranged several tasting events all over Scotland and the UK, this included a sold out tasting evening at Charlotte's W4 in London.
A few months into the campaign, Rubber Lips work with FIRKIN Gin was rapidly building a solid brand reputation amongst gin and whisky enthusiasts alike. Derek was passionate about his product and believed in its quality, but felt it required a contemporary and fresh rebrand that embodied the high quality and originality of FIRKIN Gin.
Intimation Creative began working with Derek to determine what it was exactly that he desired from his rebrand. After some thought, Derek made a decision that the key focus of the brand would be a fox in a bow tie. Thereafter, Derek provided the Intimation design team with creative freedom to produce a logo design, which would then be printed on to every single FIRKIN Gin bottle.
Several geometric logo designs were pitched to Derek, incorporating the fox and bow tie. However, Derek felt that this type of logo design did not reflect the products individuality and suggested a freer flowing design, still maintaining the solid look of a geometric illustration. Discussions began with senior designers to hone in on the specifics of what sort of design Derek was looking for.
Discussions took place with the Intimation designers about a few other gin bottles that had caught his attention and inspired him. Derek was set on a looser style for FIRKIN Gin's new logo, and work began producing a hand drawn logo that perfectly captured the identity of FIRKIN Gin. Concept work began on a free hand design that possessed a more animated feel. With the experience and talent of the Intimation designers at the helm and armed with Derek's guidelines, it didn't take long before the logo began to take shape and the cheeky and charismatic FIRKIN Fox was born. This quirky and original design would later become the cornerstone of FIRKIN Gin's new brand identity.
Discussions took place as to whether the fox logo itself would incorporate other details; a border, a tail, a hat, both or none? The potential logo designs were put forward each possessing their own individual qualities. After careful consideration a decision was made on the final logo, and the fox wearing a hat was agreed upon. The evolution of the FIRKIN Fox design was complete.
With the logo finalised, attention could now be turned to applying the logo to a range of marketing materials and using it to bolster and refresh FIRKIN Gin's existing PR campaign. Derek was directly involved in the new methods of marketing FIRKIN Gin, his love of the new logo and his passion for the brand, saw him featuring the branding via a wrap on the side of a Lamborghini Huracan! Its supercar status along with an eye catching bright orange colour, would prove to be a perfect marketing tool for FIRKIN Gin.
Rubber Lips PR then came up with a range of bespoke social media hashtags for the FIRKIN Gin inspired by FIRKIN Gin's Lamborghini. #RaceToTheBar and #FIRKINFriday quickly became apart of the brand identity as much as the FIRKIN Fox itself. These catchy and original hashtags are currently used on FIRKIN Gin's Twitter, Instagram and Facebook feeds to actively promote competitions, events and updates. 'Follow the Fox' is a particularly popular competition that runs monthly via FIRKIN Gin's Twitter and Instagram. This involves members of the public photographing the FIRKIN Lamborghini on its travels throughout Scotland, where the best photo wins a free bottle of FIRKIN Gin. This has resulted in a vast following across social media, boosting FIRKIN Gin's digital presence, reaching a wider audience and potential customers than ever before.
FIRKIN Gin's most recent PR event was held in partnership with Lamborghini Edinburgh. A "Cars & Cocktails" evening was held on the 23rd of June at the Lamborghini Edinburgh showroom to promote FIRKIN Gin's refreshing new image. Intimation Creative was also in attendance, having collaborated on the events organisation by designing the invitations.
This 'invite only' event was attended by respected food and drink industry experts, supercar enthusiasts, whisky and gin connoisseurs and of course, the FIRKIN Fox made an appearance too!
The rebrand of FIRKIN Gin is a true success story, the result of a fantastic partnership with Rubber Lips PR and Intimation Creative. The introduction of the new FIRKIN Fox branding and accompanying PR campaign has reinvigorated the brand and provided FIRKIN Gin with a new innovative and contemporary brand identity. The FIRKIN Fox can now be found on all of FIRKIN Gin's new bottles, latest marketing materials and of course, whizzing by on the side of an orange Lamborghini Huracan!
Follow FIRKIN Gin on Facebook, Twitter and Instagram for all of the latest news and updates on competitions and tasting events near you.
#Racetothebar