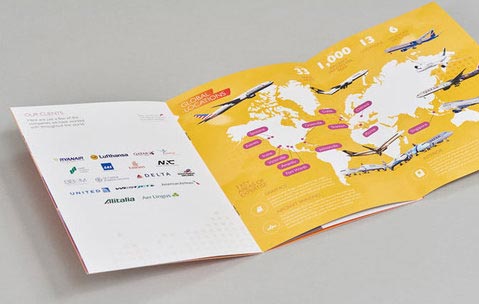 October 19th shall see the official launch of the recently formed International Aerospace Coatings (IAC Ltd) new branding at MRO Europe.
One of the largest gatherings for the aviation industry, MRO shall see the new branding, as created by the team at Intimation Creative Ltd., presented to the world's associated airline industries.
At MRO, hosted this year in Amsterdam, the new branding shall be presented by IAC to the aviation audience.
Initial concepts for the new brand; which saw the merge of Eirtech Aviation, Leading Edge and Associated Painters; were presented by the Intimation design team, in November 2014. A soft launch of the brand then followed with the rollout of stationery, a global capability brochure, social media platforms and extensive brand guidelines, to protect the overall brand.
Launch of a new, united website for IAC then followed in March 2015 and additional promotional material, including brochures and exhibition design for their presence at MRO London, in September of the same year.
The logo design was inspired, rather aptly, by a bird and as IAC's CEO Niall Cunningham explains; "The Arctic tern is a seabird known for its extraordinary migration journeys, which can average 90,000kms, equal to flying twice around the planet. These distances achieved by Arctic terns are by far the longest migrations known in the animal kingdom and the story of these tiny creatures really appealed to us. Their journey is one of endurance, skill, tenacity and an ability to fly great distances, which, for us, drew parallels with the IAC story."
This was a primary consideration for Intimation Creative, in creating the new brand for IAC, which represents the company's heritage and the coming together of three, well-respected players in the aviation industry. The resultant IAC bird logo is compiled of three colours – those of the three original companies, which form IAC Ltd.
MRO Europe 2016 shall see the new brand, not only unveiled but celebrated on the IAC stand; Booth 10-1038 on Wednesday the 19th as the new brand identity is toasted with music, entertainment and refreshments.