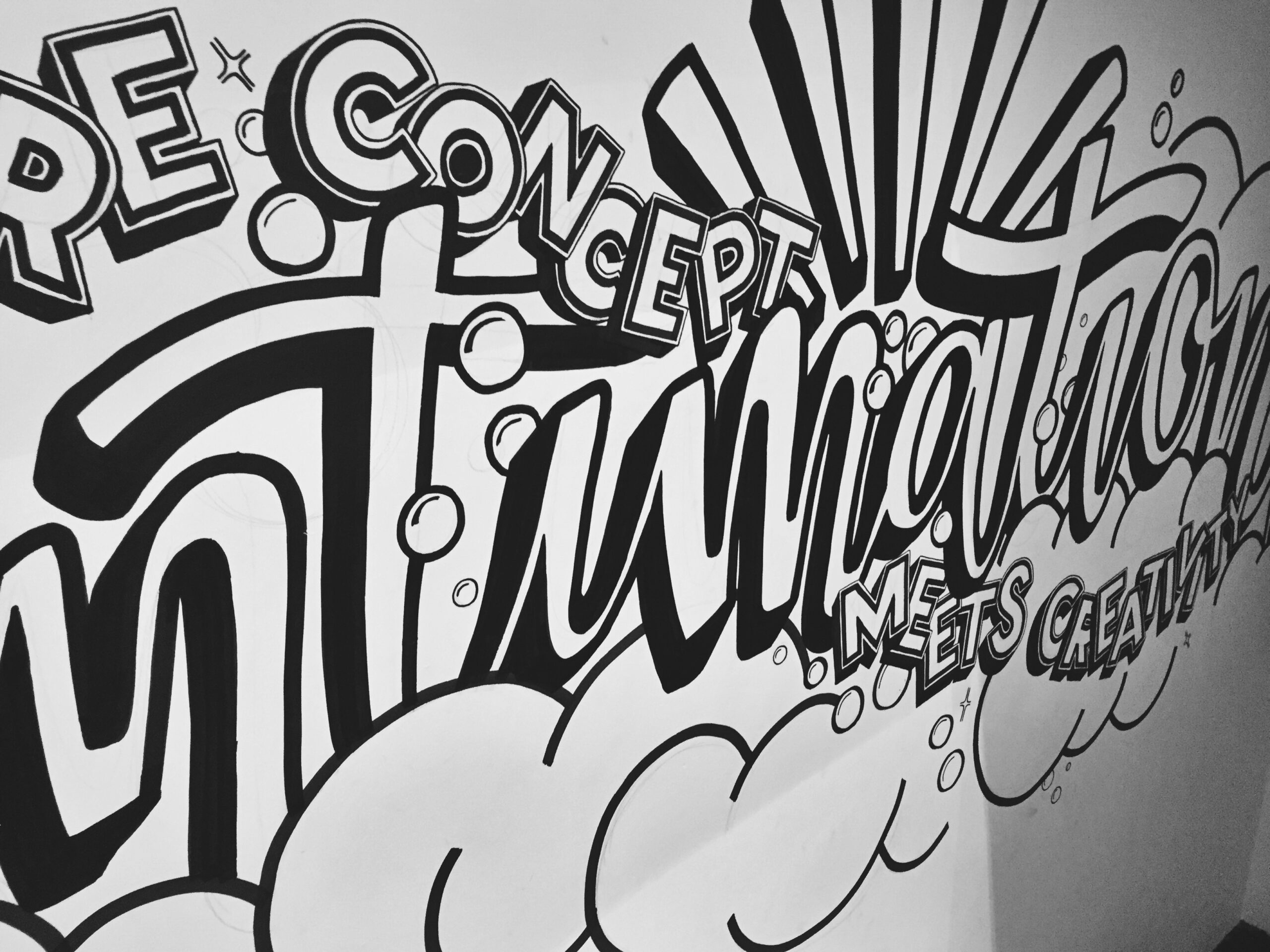 If you were at our launch in Newcastle, you can't fail to have noticed the unique wall art, designed by our newest member of the team…
We are delighted to introduce you all to our newest team member; welcome Mattie Brass – designer in the Newcastle studio.
Some of you shall be getting to know Mattie (and his work) more closely in the coming months, however we thought a quick Q and A session would provide the best insight to the person behind the stairway wall art!
Q1: Inspiration behind the wall art in the IC studio???
The inspiration for the wall art came really from the creativity of Intimation. I tried to incorporate all the elements that make the agency what is it- its personality. I have included elements of what we do, coupled with a local flavour and some quirky design features (not to forget the addition of Sid the Sexist, added by Simon Donald of Viz fame, at our recent party evening!).
I love typography and Instagram now provides an amazing place to get inspiration with loads of inspirational typographers like @eltipographic and @typographylovers. I am constantly scrolling through Instagram and Pinterest looking at type design to get new ideas and inspiration.
Q2: Little bit of education/work history?
I have studied design for more than six years from college, to a foundation diploma and then on to a degree at Northumbria University. After graduating I spent a year working as Northumbria Students' Union's in house graphic designer creating artwork for all their events, campaigns for Fresher's Week, website redesign and monthly magazine. Since leaving university I have also set up my own online shop @mattiebrassdesign selling typography and photography prints.
Q3: What are you most looking forward to working at IC???
I am excited to see Intimation grow as an agency. I was lucky to start the day before we moved from the Gateshead studio to the new office in the centre of Newcastle. It was great to be able to see the last office and how much Intimation is moving forward to become a big player in the design scene in Newcastle.
Q4: Tell us something we don't know about you???
I am a descendant of the 28th U.S president Woodrow Wilson. Im not sure the the exact relation but my gran traced her family tree and discovered the link.