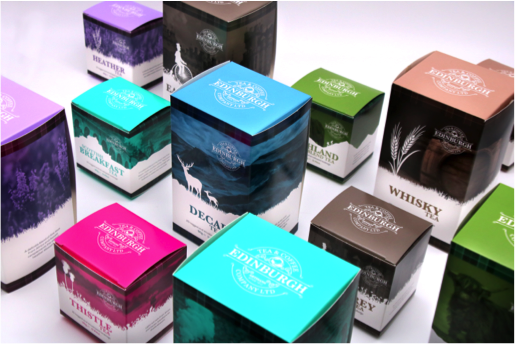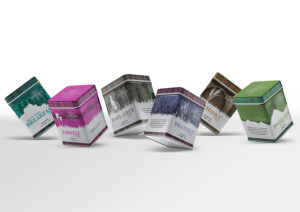 REMIT
We have recently completed a successful rebrand of marketing collateral for Edinburgh Tea and Coffee Company Ltd. Supporting the business across all their product lines, Intimation's design team's branding work for the Edinburgh based business has allowed them to branch out to new distributors in addition to the original supplier at Edinburgh Airport. Sales doubled in the months ensuing the rebrand with products now available in worldwide destinations, as far reaching as Dubai.
CREATIVE PROCESS
As is typical, a series of style changes were involved in the creative process. Working on the project from client brief, through inception to the final rebrand, saw the designers experiment with illustrations, line drawings and silhouettes, working through tests from a basic typographic style to a more strongly defined typographic style. Researching colour pallets to the maximum benefit of exposure and impact, whilst maintaining brand recognition and loyalty across the wide variety of products within the ETCC range required a great deal of in-depth research and problem solving to reach the desired outcome. The result and consequent success is however an outcome of the creative process and a result we aspire to in each job we undertake.
WHY INTIMATION?
Commitment to the brand we represent through our design work is essential and our team consistently get behind the ethos of the brands we work with through design. We strive to achieve the best possible results and specifically, with ETCC, there was a challenge of maintaining the heritage, which the brand had historically been built upon; reflecting the style the current audience was accustomed to, whilst improving the brand to reach a new audience and demographic. In doing this, we put a spin on the design to create an appeal within the higher end market, whilst still retaining the original core elements which the original audience knew and loved.