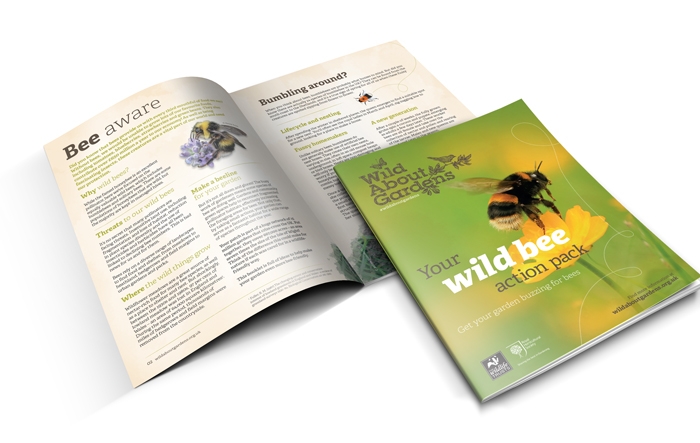 Intimation has received two nominations for the 2018 Scottish Design Awards.
The Scottish Design Awards has taken place annually since 2012, recognising the best of the Scottish design industry: covering graphic design, interior design and architecture. Intimation's work on the Wild About Gardens campaign, a joint initiative led by the Royal Horticultural Society and The Wildlife Trusts, received a nomination in the Publication category.  The second nomination for Intimation is in the Corporate Identity category, where the company's design, and development, of the FIRKIN Gin brand has been acknowledged.
Intimation has worked closely with both the Wildlife Trusts and the Royal Horticultural Society for a number of years, producing a host of engaging and fun designs for exciting nationwide campaigns. The Wild About Gardens campaign encourages people to use their gardens to take action, helping to support nature and a variety of British wildlife; including bees, worms, bats and hedgehogs; which have suffered from declining numbers over the last 20 years.
The Wild About Gardens team recognised the importance of design to the success of their campaigns, and were delighted to work with Intimation on their latest campaign: "We are passionate about sharing wildlife gardening with as many people as possible, and engaging, eye catching design is key to this. It was great to collaborate with Intimation on the Wild About Gardens campaign and it is rewarding to see that they have been recognised."
Similarly, Intimation has worked with FIRKIN Gin since the company launched back in 2015. Over the last three years, Intimation has developed the identity of FIRKIN Gin with a strong brand, several marketing campaigns, organisation of events, press releases and the management of a strong social media presence. FIRKIN Gin has grown from strength to strength, now boasting a total of eight premium spirits in their product range.
Managing Director of Intimation, Steve Sadler, is delighted to have received two nominations: "I am really pleased that Intimation has been nominated in the Scottish Design Awards again this year. It's a fabulous showcase for the hard work the whole team at Intimation produce on a daily basis."
The Awards Ceremony takes place at The Principal Grand Central Hotel in Glasgow on Thursday 23rd August.