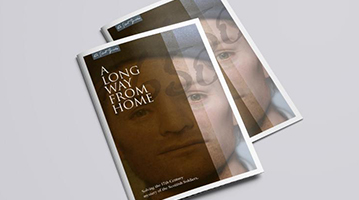 The Intimation team are proud to have worked with Durham University on the upcoming exhibition 'Bodies of Evidence: How Science Unearthed Durham's Dark Secret', producing a 40-page souvenir guide about the discovery. The guide, which has been named 'A long way from home', tells the story of the Battle of Dunbar and offer a unique insight into the research undertaken by the team of archaeologists over the last five years.
Andy Smith, Director at Intimation, explained why the project was a great fit for the business: "We are delighted to support Durham University and the Bodies of Evidence project with the design and production of the souvenir guide. With the prisoners being from the Battle of Dunbar, which took place within a mile of where our Dunbar studio currently stands, the story being told by the exhibition is particularly interesting and exciting for us. It is a fascinating piece of history and a real privilege to be involved."
The exhibition, which is being held at Palace Green Library, is open to the public between June 9th and October 7th 2018. The exhibition focuses on telling the story of how the identities of the Scottish soldiers were established by researchers from Durham and a number of other universities.