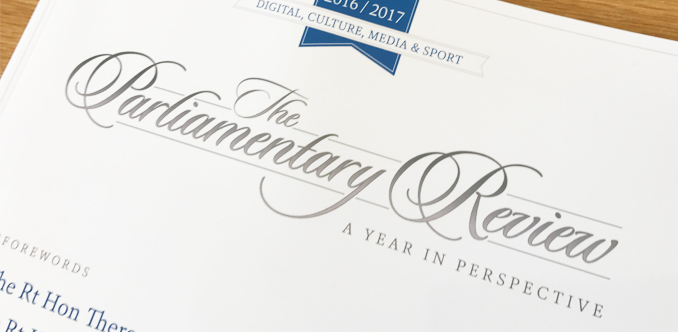 Intimation Creative is proud to announce our inclusion in the 2016-17 Parliamentary Review.
The annual publication was released at the start of the Parliamentary year in September. It has gained a reputation as an indispensable guide to cross-sector best practice through examples of how industry is responding to challenges in the political and economic environment. These run alongside political comment from leading parliamentarians and journalists.
Inclusion is by invitation only, so Managing Director, Steve Sadler was delighted that Intimation was invited to feature in the digital, culture, media and sport section,  joined in this year's edition by a number of prestigious names including Rebellion and Leicester City Football Club.
"It's an honour to be featured within the Parliamentary Review, and to reach a wider audience with our work. Intimation's clients come from all over the UK and overseas, but we have a strong presence in Edinburgh, East Lothian & the North East."
Intimation Creative, was set up 11 years ago and has seen 20 per cent growth in turnover for each of the last five years. Its clients are diverse, ranging from city law firms to heavy engineering companies, from paint manufacturers to distillers of boutique gin. The company also provides marketing consultancy for East Lothian Council's Business Gateway.
"We tailor our approach to each client, and we are committed to providing our staff with the best technology that our budget allows," added Steve. "IT is one area where I don't economise or compromise. It's the tools of our trade."
Derek Mair of FIRKIN Gin is one such client: "Intimation has been involved with FIRKIN Gin since its inception. The design team created a brand which not only fitted the remit but has been adapted as we progress as a company. Associated packaging, straplines and brand guidelines now support the brand, worldwide."
Jim Cokill , Director of North East based client Durham Wildlife Trust commented "Durham Wildlife Trust has been working with Intimation for eight years and over that time they have helped raise our use of design to a new level. Our printed materials now have a coherent look that reflects our values and their advice has helped the charity reach a wider audience."
"The company is going through an exciting couple of years, with continued growth expansion of services and further investment in the team and infrastructure. We have an excellent team and over the years have developed some strong business relationships with our clients."
There will be a gala dinner at the Palace of Westminster in London to celebrate the Parliamentary Review launch in October.